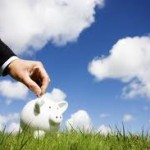 The province of Quebec in Canada has recently launched a new incentive program for solar. It was good to see that it provides financial support for both solar thermal and PV on fairly equal terms. The program objective is to encourage installation of solar systems and develop solar energy production knowledge in Quebec. The program budget is C$7 million until March 31, 2013.
To be eligible, a solar project must:
reduce the use of fossil fuels
be installed on buildings in the commercial, institutional and industrial sectors
be used in applications for:
preheating fresh air
preheating process air or process water
hydronic space heating
public pool water heating
electricity generation in off-grid or autonomous network settings
That the program focuses on reducing fossil fuel consumption seems logical. Quebec is a net exporter of electricity and replacing abundant hydroelectricity with solar would be not be productive.
That the program focuses on the commercial, institutional and industrial (CII) sectors also seems logical. These sectors combine to consume over 50% of the province's energy needs. Granted, much of this energy is still electrical, but in terms of using solar to offset fossil fuels, the CII sectors are the easiest target. Solar is a difficult proposition in the transportation sector (25% of total energy) and hydroelectricity dominates in the on-grid residential sector.
That the program specifies certain eligible application types is understandable, but that domestic hot water heating is specifically excluded later in the document is a little puzzling. Maybe the majority of buildings in Quebec use electricity for domestic hot water heating, but then market forces and not policy would have dictated which projects would be submitted. This type of exclusion seems arbitrary to me and might squander an opportunity to help building owners upgrade legacy water heating systems to more efficient and cost-effective technology.
Still, it is good news that there is renewed activity for solar in "la belle province" and this West Island native is looking forward to many positive meetings, projects, installations, and of course, poutine. On y va.
Energy data from Ministre des Ressources naturelles et de la Faune website
http://www.mrnf.gouv.qc.ca/energie/statistiques/index.jsp