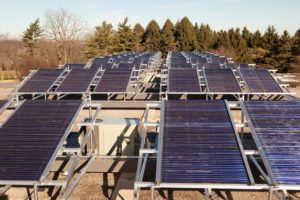 Project Overview:



At the time of installation, Oxford Gardens Solar Project was Canada's largest solar thermal cooling and heating installation in Canada. It's innovative design was awarded the Dena Solar Roofs Program for Foreign Market Development in 2009 and the Intersolar North America Award for its innovations and excellence in solar thermal technology in 2012. The project includes the installation of 3,240 S-Power Direct Flow vacuum tubes (162 collectors) with a peak output of 342.8 KW(t). Providing 100% of the space cooling for the original building footprint of 99,000 square feet with 112 residents in 101 individual suites, the system saves approximately 100,000KWh/year of electricity and 12,000 cubic meters of natural gas. With additional capacity available in the HVAC system, no new heating or cooling equipment was required during construction of a 75,000 square foot addition in 2013.
Solar System Components:
| COMPONENT | DESCRIPTION |
| --- | --- |
|  Collectors |  162 x S-Power, 20 Tube Direct Flow Collectors |
|  Peak Output |  1,169,654 BTU (th)/h (342.8 KW) * |
|  Solar Tanks |  2 x 450 Liter (119USG) storage tanks |
|  Lineset |  Over 4,000 ft of Stainless Steel piping |
* Peak Output taken from the Enerworks S-Power Solar Keymark certificate.
Do you have a question? Contact us and a Solar Thermal Specialist will be happy to assist you!
CanSIA News and Media
Woodstock, September 30, 2010. The up-to-date largest Canadian solar-
cooling project is awarded by the "dena Solar Roofs Program for Foreign
Market Development 2009/10". Read more …
Intersolar North America Award 2012
The Intersolar AWARD 2012 paid tribute, for the first time, to outstanding
projects in the category of Solar Projects in North America. Read more …