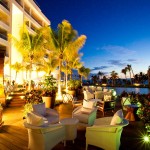 I was recently asked to travel to Puerto Vallarta, Mexico at the last minute to assist in the troubleshooting and commissioning of a large Enerworks solar thermal system located at the Grand Luxxe Resort & Residences.  Due to urgency, a request from our manufacturing partner, S-Power who is located in Germany, asked us to support our installation partner, Desmex.
When I left on August 31, 2012 the system was working very well.  At 1pm the system had already heated 18,000 liters of water to 70°C and it was continuing to add heat to the storage system.  The storage system was designed to capture as much solar energy as possible and deliver it during the resort's peak demand period in the evening and morning and will supply 54% of the hot water to the resort.
Many people use high quality components (like what Desmex did use):  RESOL Controller, S-Power Collectors, WILO Pumps. However it is always important to work with a partner who has the capacity and capability to assist in the design, troubleshooting and commissioning of a system.  This is one service that Enerworks prides itself on.  Not only do we manufacture and integrate the highest quality components, but we have the capacity and capability to assist our installation partners and system owners should they require assistance, even when that assistance requires me to be on the next available flight to Mexico!  This service is not free, it's offered by very few system designers and manufacturers but it is an important consideration when choosing a system designer and manufacturer to work with.
Based on this positive experience I believe there will be additional opportunities in the future for our companies to work together. In addition, Enerworks has two Spanish speaking employee's on staff which will help in communicating more effectively in future solar thermal applications.
If you're looking to take a "green vacation" and are traveling to Puerto Vallarta, I would encourage you to look at staying at the Grand Luxxe or Sea Garden resorts.  This group of companies also have time shares, so if you're part of a time share group make sure you check this vacation spot out.  My experience at the Grand Luxxe was excellent.  The staff were attentive, the rooms clean, the pools and grounds were beautiful and the dining was excellent.  Please support companies who support green technologies that reduce pollution.