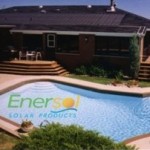 I was having a chat with a friend of 20+ years who was telling me his parents (who I"ve also known for 20+ years) had not used their pool much the previous year due to cool weather and were considering purchasing a gas pool heater or heat pump to heat their pool but they were concerned about the high costs to heat the pool.  I explained that our company, Enerworks Inc. (www.enerworks.com) had recently purchased a solar pool heating manufacturer called Enersol Solar Products (www.enersol.com) and that we should install this for them to avoid costly bills because it would be free to operate.
We started at about 8:30am on a Saturday morning and were finished at about 6pm that evening.  Many of our installers can do this in half the time but I was pleased with our efforts as it was a new product to both of us.  We put in an automatic valve so they would not have to monitor the heater and tied it in under their deck to the pool pump to make it look nice and tidy.  We packed up for the day and I didn't really give it much thought for the next week as I was heading to Europe for a tour of Germany and England.
Finally I emailed my friend and asked him how the system was working?  He responded enthusiastically saying his parents love it!  The pool temperature had risen from 58F to 78F within the first two days and by the weekend it was at 83F.  I was really pleased as his parents had always been very good to me and it was nice to have the opportunity to repay some of their kindness by helping them out and saving money on their utility bills.
I play softball with my friend and his dad and it wasn't until our Monday night game that I realized an additional benefit he was enjoying due to his new Enersol solar pool heater.  He had been bragging to all the guys on the team (some of whom also have grandkids) that his grandkids were over for 8hrs on the previous Sunday to swim in his pool.  The temperature outside was not all that warm (beginning of May in Southern Ontario) but the pool was so warm the kids were comfortable so they just kept on swimming.  Knowing how much he and his wife love their grandkids, I know how much this fun, family time means to them and I'm glad I could have a small part in helping them to have more fun, family time together around the pool.
So if you're thinking of putting in an Enersol Solar Pool Heater to save money and enjoy your pool for a longer time, I hope you also get the added value of extra quality family time together.  Enjoy your summer!