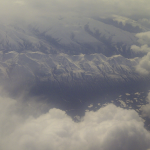 This week I had the unique opportunity to visit Fairbanks, Alaska and its surroundings. The official purpose of the visit was to introduce local contractors, architects, home owners and building officials to the benefits of solar heat. In reality I learned just as much, if not more from my audience as they did from me.
If you're asking yourself whether solar is even a viable option in such a cold climate, you're not alone but the short answer to that question is that yes, it does work mainly because of the high heating costs. However, there's a local twist to it. The Enerworks local partners have successfully installed many systems by now. Originally they had to build some sophisticated support racks for the collectors because a) the high latitudes require tilt angles much steeper than the typical roof had and b) many of the roof peaks seem to run North-South, which is very unfavorable and they had to point the collectors toward South (on racks having one leg longer than the other).
In time, though, they learned that a vertical wall mount is easier to do, less expensive and – the icing on the cake – gives a better output than traditional rack mounted configurations. I could not find any scientific studies about this, but anecdotal evidence from real life operating systems points to an improvement of as much as 30% compared to the traditional recommendation where the tilt angle matches the geographic latitude of the site. This is mainly due to the reflection of light by the snow covered ground: a vertically mounted collector seems to better catch this light in addition to the radiation coming directly from the sun.
| | |
| --- | --- |
| | |
Another interesting effect observed by the local solar experts – and this time confirmed by computer simulations – is that in Fairbanks the maximum output doesn't happen at "zero azimuth" when collectors are pointed straight at the geographic South as is the case with most sites in the Northern hemisphere, but at a South-Eastern orientation. Originally I thought that this is caused by surrounding mountains, but in reality Fairbanks is located on relatively flat ground and the mountains are too far to make a difference. Locals explained that the weather patterns here are such that many summer days have bright mornings but later in the afternoon clouds move in. This occurs with surprising regularity – like clockwork as I was able to confirm myself.
Part of my stay involved meeting researchers at the Cold Climate Housing Research Centre. I was able to peek into their fascinating projects such as the "remote wall" that eliminates condensation issues typically associated with extreme cold weather, a special type of concrete that can be produced locally and they found to have many advantages over traditional cement as well as daily heat storage from wood burning boilers or masonry heaters (very common here) that can also be adapted to add solar heat to the energy mix.
Alaskan life is constantly challenged by the extremes of their harsh climate. It's very easy to misunderstand Alaskans from the comfort of our Southern homes in the "Lower 48". Just like their forefathers did during the gold rush, today's Alaskans come up with innovative solutions, especially energy solutions that will reduce and perhaps one day eliminate their reliance on expensive resources trucked in from other places. And perhaps these days that reflects, more than anything, the free Spirit of Alaska.